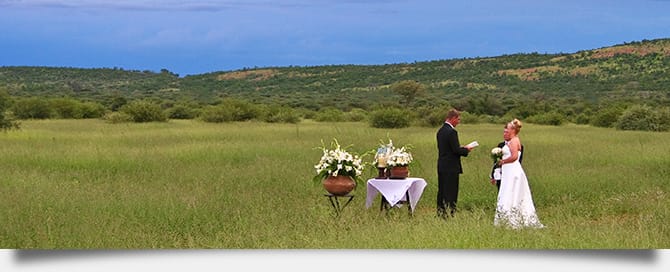 For a dream African wedding surrounded by striking bush landscapes, tranquility and abundant wildlife of  Madikwe Game Reserve, our consultants will arrange all accommodation for your wedding party and can also provide contact details as required for various reputed local suppliers who can attend to any outstanding needs you might have.
Whether you want a small and intimate wedding or a bigger and more boisterous affair, Madikwe can serve as the perfect bush backdrop for you and your loved ones during the wedding, whilst the reserve's first rate lodges and their staff will go out of their way to ensure your big day is truly unforgettable.
Madikwe Game Reserve is malaria-free, boasts excellent weather conditions through most of the year and lies in close proximity to airports in Johannesburg, Pretoria or Gaborone, making your dream bush wedding more feasible and accessible than ever.
Why Book with us:
Our experienced consultants all have extensive knowledge of the park and its variety of excellent accommodations.
We will make sure we find the best venue for your particular wedding needs.
We will ensure that you get preferred rates for your wedding in Madikwe.